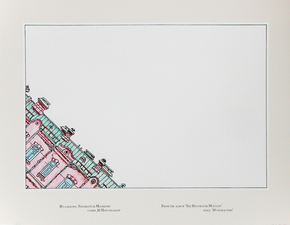 The Decorator Malygin
Ilya Kabakov is a conceptual, installation and graphic artist, born in 1933 in Dnepropetrovsk in the Soviet Union (now Ukraine). He lives and works on Long Island. For many years Kabakov supported himself by working as a children's book illustrator in Moscow, while pursuing his own artistic projects. In the 1970s he produced a series of albums called The 10 Characters; The Decorator Malygin is one of those albums.

The Decorator Malygin
1998
Suite of four silkscreen prints
Paper: 23 1/2 x 31 1/2 inches
Edition of 50. Printed by Atelier Limited.