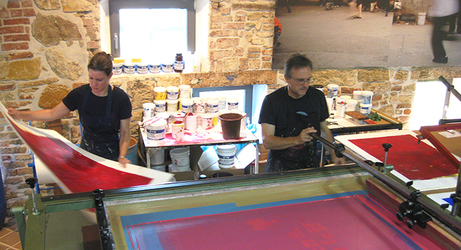 Aspinwall Editions is a fine art print publisher, dealer, and print studio with facilities in New York City and Rheine, Germany. Founded in 2012 by Ann Aspinwall and Knut Willich, Aspinwall Editions offers contract printing services and collaborations with artists, as well as residencies at Kloster Bentlage in Rheine.
Knut and Ann have extensive experience in the field of printmaking. Knut was formerly the proprietor of Atelier Limited in Münster, Germany, and taught printmaking there at the University of Applied Sciences. He is the founder and chairman of the Print Association Bentlage in Rheine, where he organizes an international printmaking symposium every three years. Ann previously worked as a printer at Pace Editions and as a Print Specialist in the Print Collection of the New York Public Library.
Aspinwall Editions's clients include the British Museum, the Cleveland Museum of Art, the New York Public Library, the Museum of Fine Arts, Boston, the Smith College Museum of Art, the Hood Museum of Art, the Smithsonian American Art Museum, the U.S. Department of State Art Bank, Cleveland Clinic, Memorial Sloan Kettering, and the Montefiore Medical Center. Aspinwall Editions is a member of the Bundesverband Deutscher Galerien und Kunsthändler e.V.
In the course of their carriers, Knut and Ann have worked with the following artists: Ghada Amer and Reza Farkhondeh, Max Bächer, David Bates, Heinz Bienefeld, Gottfried Böhm, Karl Bohrmann, Julia Bolles, Holger Bunk, Claus Bury, Ingrid Calame, Douglas Cooper, Stephen Craig, Christoph Dalhausen, Jim Dine, Mark Dion, Tara Donovan, Maria Eichhorn, Ayse Erkmen, Inka Essenhigh, Norman Foster, Helen Frankenthaler, Ludger Gerdes, Raymond Hains, Erwin Heerich, Mary Heilmann, Arturo Herrera, Heinz Hilmer, Edgar Hofschen, Hans Hollein, Thomas Huber, Jochen Jordan, Ilya Kabakov, Ellsworth Kelly, Zamp Kelp, Per Kirkeby, Josef Paul Kleihues, Riccardo Licata, Nicola Lopez, Robert Mangold, Brice Marden, Georgia Marsh, Richard Meier, Alessandro Mendini, Santi Moix, Paul Morrison, Wangechi Mutu, Max Neumann, Georges Noel, Kenneth Noland, Claes Oldenburg, Frei Otto, Nam June Paik, Petra Pesce, Peter Reuter, Qin Feng, Aldo Rossi, Katia Santibanez, James Siena, Kiki Smith, Otto Steidle, William Steiger, Jessica Stockholder, Diana Thater, Fred Thieler, Rosemarie Trockel, Wolfgang Troschke, Oswald Mathias Ungers, Dan Walsh, Matthias Weischer, Stefan Wewerka, Peter Wilson, and Heimo Zobernik.
Video documentation of their 2015 collaboration with Matthias Weischer at the Print Association Bentlage can be viewed
here
.